Virtual Event
IP Subject Planning Crash Course
Virtual Event
January 10
–
4:00 pm
–
4:45 pm
GMT+2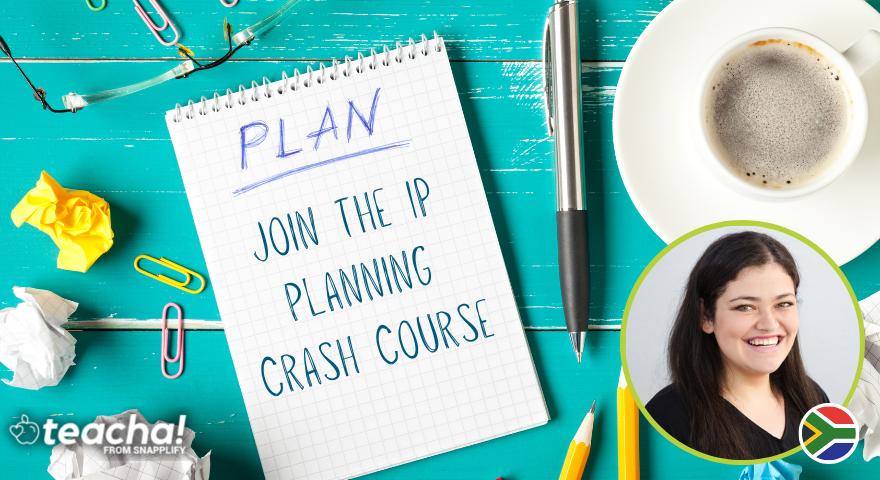 So you've started in a new grade or a new subject, and you're feeling overwhelmed. We've all been there! In this webinar, we'll introduce you to the subject planning course that is specifically designed for teachers in the Intermediate Phase. It gives practical tips, guides and templates to help get you started for the year. Each section of the course is subject-specific, so you can be sure that you're getting the best and most specific advice and templates as possible.
The webinar will be your chance to meet the trainer as well as other teachers in your cohort and kick-start your planning for 2023.
Your ticket will give you access to the 45-minute webinar as well as the self-paced course with hours of video content. The course will release on the 10th of January, after the webinar.
You will get:
Webinar – a 45 minute webinar introduction to the course. This will give you a chance to meet your cohort and make sure that you have access to the course material and community.
Self-paced course – divided into each of the 5 core Intermediate phase subjects with a total of over 3 hours of video content as well as planning templates for each subject and bonus resources and materials.

English home Language

Reflection
An overview of the teaching methodology required
An overview of the assessment requirements
Let's get planning – a practical look at how to plan for the year as well as individual lessons (including templates)

Life Skills

Reflection
An overview of the assessment requirements
Let's get planning – a practical look at how to plan for the year as well as individual lessons (including templates)

Mathematics

Reflection
Planning for Mathematics routines
An overview of the teaching methodology required
An overview of the assessment requirements
Let's get planning – a practical look at how to plan for the year as well as individual lessons (including templates)

Natural Sciences and Technology

Reflection
An overview of the teaching methodology required
An overview of the assessment requirements
Let's get planning – a practical look at how to plan for the year as well as individual lessons (including templates)

Social Sciences

Reflection
An overview of the teaching methodology required
An overview of the assessment requirements
Let's get planning – a practical look at how to plan for the year as well as individual lessons (including templates)